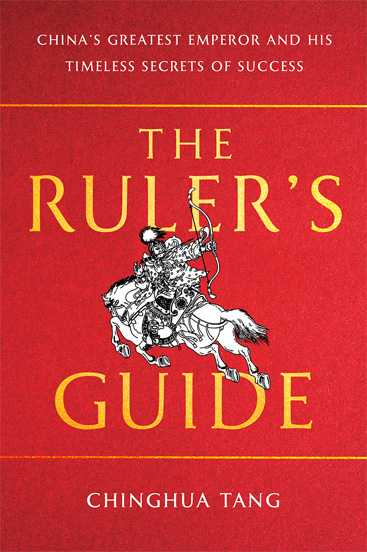 THE RULER'S GUIDE
China's Greatest Emperor and His Timeless Secrets of Success
By Chinghua Tang
Publisher: Scribner
February 2017
Buy from Following Sellers:
In the classic tradition of Sun Tzu's The Art of War, here for the first time in English is the timeless wisdom of China's greatest emperor Tang Taizong (598-649 AD), which is still being studied more than 1300 years later as an invaluable guide to leading and managing.
Tang Taizong is arguably the greatest Emperor in Chinese history. In Asia, many historians rank him with such rulers as Augustus, Genghis Khan, and Napoleon. When he founded the Tang dynasty, Taizong was only twenty-eight years old, and his chief accomplishments were on the battlefield, where he personally slew 1,000 of the enemy. Ultimately, he would defeat the descendants of Attila the Hun, open up the Silk Road trading route, create a golden age of prosperity and cosmopolitan culture, preside over a society in which women enjoyed higher status, and allow Christianity and Islam into China for the first time as well as introduce Buddhism into Tibet. His dynasty would last 300 years.
Here, author Chinghua Tang presents conversations between Taizong and his gifted advisers that reveal core aspects of leadership, among them: how to appraise oneself and assess others, how to enhance organizational effectiveness, how to compete with rivals, how to grow power and influence without losing the respect of others, how to learn from the rise and fall of predecessors, and how to craft one's legacy.
An indispensable guide that is as relevant for a middle-manager, military commander, or athletic coach as for a school principal, political leader, or over-stressed parent, The Ruler's Guide doesn't just reveal the insights that have kept Taizong's legacy alive, it spells out how that wisdom is a match for today's fast-paced, ever changing world.
The Ruler's Guide has been translated and published in Brazil, Italy, France, Spain, the Netherlands, Greece, Portugal, Taiwan, and Bulgaria.
Praise for The Ruler's Guide
"Deep, dazzling, and destined to be a long bestseller…This is the best book of its kind since Sun Tzu's The Art of War. The Ruler's Guide is a little masterpiece, ancient in its origin but full of wisdom for the 21st century."

"Fascinating…The book offers gem after gem of timeless and practical leadership lessons. Reading it made me think how much better off the world would be if common sense were common practice. The Ruler's Guide is full of common sense."

"This brilliantly presented book is a jewel. The governing principles of one of history's most accomplished rulers and China's golden age emperor have never been seen in English—until now. And the intervening centuries have only validated the philosophy of Tang Taizong. You will be lifted and inspired by the elegant simplicity of The Ruler's Guide."

"Enjoyable … The Ruler's Guide has much to pass on to us, not the least of which is an explanation of the Chinese understanding of virtues, which gives us much to consider about how virtues, rather than harsh laws, make a vibrant society."

"The Ruler's Guide is a collection of riveting and powerful insights on leadership. It's worth reading for responsibilities in the boardroom or in combat."

"Ancient wisdom at its best. This book is to management what The Art of War is to military strategy. Inspired by both Confucius and Sun Tzu, Tang Taizong, along with his key advisors, offers us a world of superb advice that is still relevant even though it has existed for more than a millennia. The Emperor both confirms good management practice and propels us to achieve new peaks, along the way providing a persuasive rationale for cultivating a strong moral character."
Praise for The Book of Chinese Wisdom
Treat this as a story book, and you will be entertained; treat this as a history book, and you will learn the richness of Asia's past; treat this as a book of wisdom, and you will be inspired.

The Book of Chinese Wisdom opens a fascinating world of ideas and experience, from statecraft to family values, from warfare to human relationships, which I believe will delight and inspire
many readers.

This is a wonder book for readers of any race or culture because the wisdom of China belongs to all mankind. I find it a truly enriching and rewarding experience to discover and rediscover the gems in the treasure trove of China's wisdom through this exceptional encyclopedic volume.

Three thousand years' accumulation of China's wisdom in one masterly volume that offers knowledge, pleasure as well as practical wisdom directly or indirectly related to our work, business, career or life.